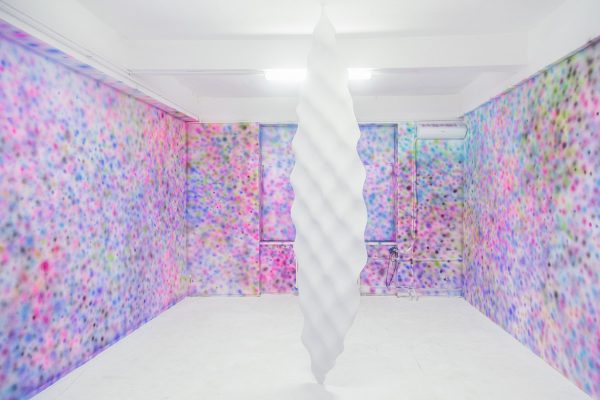 Lapsus
---
3-5 Splaiul Peneș Curcanul, 1st floor
Opening hours: Thu-Sat, 18:00 – 21:00
Title: This-Connected
Video & installation by Bogdan Tomșa, Petrică Ștefan, Andrei Dinică-Nicolescu, Ana Maria Szollosi, Alex Boca
The artist-net is so fragile in its attempt to hold some bits of space together.
Our spaces, art studios, media labs, a gallery, all are improvised and emergent from the cement up. Where once was industry, chemistry and bureaucracy, now there is a creative but precarious atmosphere. An organic net, very similar to a spider web, connects this and that studio, you can barely notice it when there are no happenings. It is invisible, like a microscopic organism or a parasite burrowed deep in its host.  The moment of the show only works as an attention grabbing event, temporary public stirrup. Links and signals are appearing, disappearing and reappearing at seemingly random times. In the end all will be dissolved, the presence of the network seems unessential.
While an artspace shows up as a cocoon with its creature inside, when it is part of a net you can tell it's different from its neighbour, who is maybe emerging to fly elsewhere. One has its own rhythm in the ecosystem, and there is both connection and disconnection between them, in style, principles, vision, ambition and aesthetics. I can even hear Sir David Attenborough whisper observations about this endangered species called the emerging artist on a TV channel named Artist-Run Planet: there are no two members of the same species which share the same characteristics.
A conglomerate of such spaces can only give the impression of something firm and stable. It can help one feel secure for a while, but it functions like an organism which creates more fragility than it actually manages to reinforce.