Curator
Adrian Notz is curator at the ETH AI Center, curator of the Art Encounters Biennial 2023 in Timisoara, mentor for the creative strategy and vision at the European Center for Contemporary Art in Cluj (ECCA), King of Elgaland-Vargaland, NSK Diplomat and Chevalier de la Tombe de Bakunin. From 2012-2019 he was artistic director of Cabaret Voltaire in Zurich. He worked there first as a curatorial assistant and as co-director. From 2010 to 2015 he was head of the Department for Fine Arts at the School of Design in St. Gallen. Notz has organized and curated numerous exhibitions, events, conferences, actions and interventions with international artists, activists and thinkers in Cabaret Voltaire as well as internationally around the globe.
Curatorial Sound Board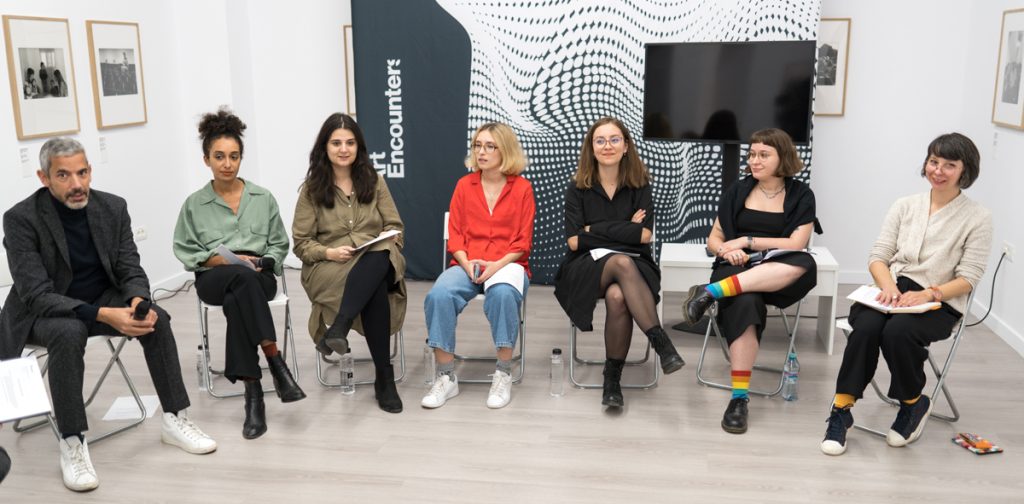 Cristina Bută is a curator and writer focusing on overcoming Western dominating art models. She holds a BA Honours Literary Studies & Cultural Analysis,  Univ.  of  Amsterdam  and  a  MA  Curating  Art  &  Cultures,  Univ.  of Amsterdam  and  Vrije Universiteit. Between 2018-2019, she was a curator in training at the  Stedelijk  Museum  Amsterdam,  where  she  worked  on major  solo  shows of Maria Lassnig and Walid Raad. She worked as an editor, researcher and cultural moderator and published texts in magazines as Third Text. Currently, she is the artistic director of Sector 1 Gallery, Bucharest and co-founder of Euxine – The Utopian Society, an NGO dedicated to developing the Black Sea region through art collaborations.
Monica Dănilă is a young curator and writer based in Bucharest. She is interested in collaborative and interdisciplinary practices, connecting art with anthropology, science and linguistics. Currently, she works with Galeria Posibilă in Bucharest, developing and organising projects with environmentally-conscious approaches.
Ann Mbuti is an independent writer in the contemporary arts field. She works as an art critic for different international magazines and her contributions are published in exhibition catalogs such as for the German Pavilion of the Venice Biennial 2022, documenta15 or the Kochi-Muziris Biennale 2022. In October 2022, her book "Black Artists Now" was published by the German publishing house C.H. Beck. Ann worked on various projects aimed at making contemporary art and culture more widely accessible. She lives and works in Zurich, Switzerland.
Edith Lázár is a curator and writer living in Cluj. She is the co-founder of the curatorial collective Aici Acolo active since 2014, showcasing young artists and cultivating collaborative models. In 2019, she was a fellow of Akademie Schloss Solitude, afterward launching the speculative journal Out of Stock, grounded in easterneuropean sensibilities.  From 2014 to 2017 she was a teammate in the artist-run space Superliquidato (Paintbrush Factory) and assistant editor of anti-utopias. A former academic in philosophy, her interests take on aesthetic politics, speculative design, post-humanism, science-fiction storytelling and the everyday troubles of tech & fashion.
Cristina Stoenescu is an independent curator currently living and working in Bucharest. Her interests currently include the topics of post-photographic images and the status of the artist in contemporary society, especially in Eastern Europe, which she explores through exhibition-making and research.
Georgia Țidorescu is a young curator based in Bucharest. Since 2018 she has been working in exhibition production for different institutions and organizations like the Art Encounters Biennial 2019 and 2021 and projects developed by Contrasens Cultural Association in Timișoara. She is now emerging in the curatorial sphere, currently focusing on discovering alternative methods of exhibiting young artists, giving them the tools to develop. At the same time she is trying to find her place in the art scene, being in an experimental period of discovering her curatorial practice.