Mediation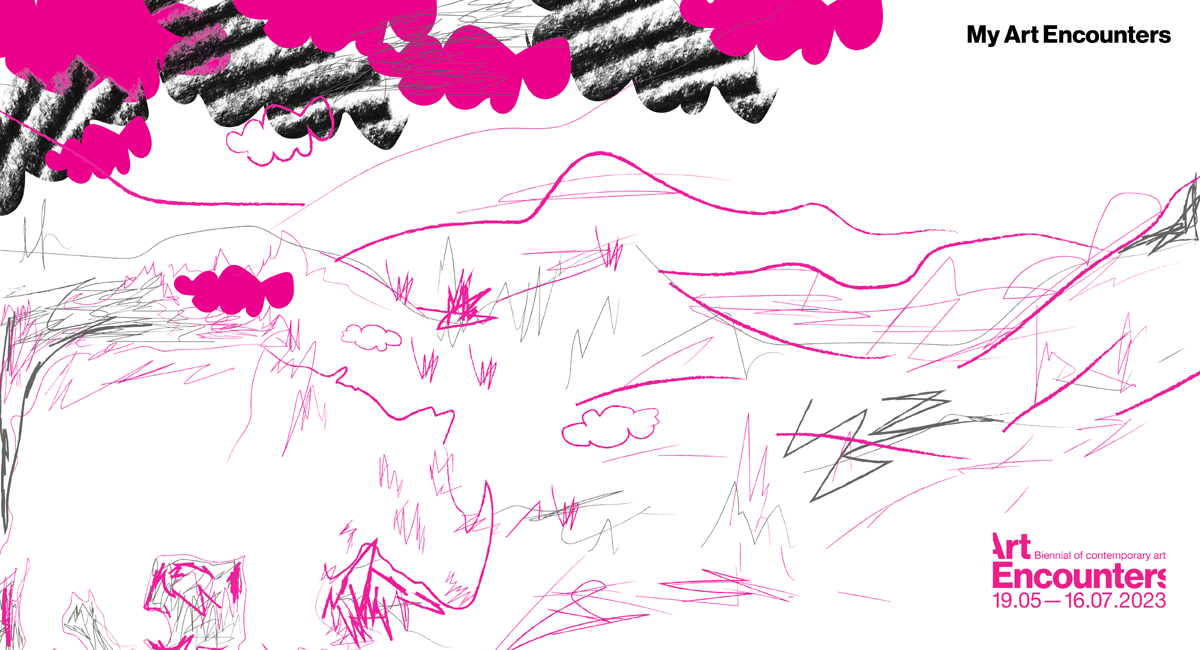 My Art Encounters
The mediation program of the Art Encounters 2023 Biennale is a complex one, developed on several levels that self-generate themselves gradually. The first level, the core of the program, is represented by the mediator, the second level being represented by the actual act of mediation, in fact performing the exhibitions, while the last level develops in close relation with each visitor, their experience and moves further gradually.
Although the biennale has an important conceptual component aimed at new technologies, the mediation program will focus more on the technological process—that is, the thought algorithms that lead to change, which materialize in a process of scientific inquiry.
We try to propose some clues, suggestions, fragments of possible scenarios by which to influence someone's route in a space inciting new ways of operating and relating to the exhibition. The exhibition is no longer understood as a simple venue where an event akes place, but as a tool for knowledge, a model for questioning possible futures.
ARTIST WALK: Guided tours offered by artists in the exhibition spaces. 
Tuesday, May 23, 18:00 – 19:00 – Artist walk with Alina Cioară, ISHO Offices
Tuesday, June 6, 18:00 – Artist walk with Mihai Toth, National Museum of Banat / Huniade Castle
Tuesday, June 20, 18:00 – Artist walk with Liliana Mercioiu Popa, Art Encounters Foundation
Tuesday, July 11, 18:00 – Artist walk with Aura Bălănescu, FABER
INTRODUCTORY COURSE:
This course is designed for anyone interested in discovering and approaching contemporary art, regardless of the level of prior knowledge. In this course, you will have the opportunity to explore the different forms of artistic expression, trends, themes, and key concepts presented in the Art Encounters Biennial and analyze significant works that marked this period.
Whether you are passionate about art, curious to discover new perspectives, or just want to explore the world of contemporary art more deeply, this course gives you a solid and engaging starting point.
Wednesday, May 25 – 18:00 – 20:00 – Introduction to contemporary art with Maria Orosan Telea, Timișoara Garrison Command
Wednesday, June 21 – 18:00 – 20:00 – Introduction to contemporary art with Maria Orosan Telea, Banat National Museum / Huniade Castle
Wednesday, July 5 – 18:00 – 20:00 – Introduction to contemporary art with Maria Orosan Telea, STPT Multiplexity
MINDMAPPING:
Games, logical schemes, diagrams, puzzles, discussions – light critical thinking workshop with Gavril Pop. Improve your critical thinking through play and dialogue in an informal workshop! We invite you to join an engaging critical thinking workshop held within the premises of the Art Encounters Biennial. You will find a variety of engaging activities and open discussions that will encourage you to express yourself and explore different ideas and perspectives. Together we explore the process of critical thinking through detailed analysis of works of art, identifying key elements, interpreting symbols, and discovering connections between works and everyday reality. In addition, interactive activities will help you train your logical analysis and problem-solving skills.
ART LABORATORIES:
Experimental cultural mediation activities supported by several local cultural actors. We invite you to a special cultural mediation event where you will have the opportunity to explore and interact with different forms of art and creative expression offered by several local cultural actors. This unique meeting will be an opportunity to connect with the artistic community in our area and experience the creative process and cultural diversity firsthand. The experimental activities of cultural mediation will be organized in a friendly and interactive setting that will encourage you to explore, participate and express yourself freely.
Every Saturday starting at 12:30.
For more details, visit the program of the Biennale.
GENERATIONS IN THE BIENNIAL:
A program of experimental mediation activities offered by Gabriela Robeci addressed to the whole family. You will discover the stories behind the artworks, learn about the artists and understand the various techniques and styles. In addition, we will provide various materials and methods so that participants can experiment and express themselves freely and creatively. Through these mediating activities, we want to encourage family bonding and communication, stimulate children's imagination and critical thinking, and cultivate a passion for art.
Every Sunday starting at 12:30.
For more details, visit the program of the Biennale.
MY ART ENCOUNTERS:
My Art Encounters is an innovative cultural mediation program designed specifically for students and teachers to encourage and inspire a passion for art. Our program offers unique opportunities to explore contemporary art, bringing it to the center of education.
With My Art Encounters, participants will have an interactive and immersive experience that will take them on a fascinating journey through the world of art. Each meeting is designed as a unique educational experience where students are encouraged to discover and interpret works of art, understand their historical and cultural context, and express their own impressions and thoughts.
Whether it's guided tours, creative workshops, or interactive presentations, My Art Encounters aims to offer a diverse range of activities to stimulate students' imagination, creativity, and critical thinking.
*** For appointments
Email address:gavril.pop@artencounters.ro
Telephone number: 0792 310 052