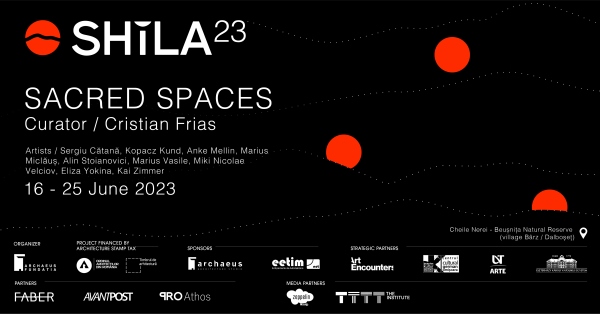 SHiLA 2023 SACRED SPACES
---
SHiLA 2023 SACRED SPACES
Curator: Cristian Frias
Artists: Sergiu Cătană, Kopacz Kund, Anke Mellin, Marius Miclăuș, Alin Stoianovici, Marius Vasile, Miki Nicolae Velciov, Eliza Yokina, Kai Zimmer
Residency: 16 – 25 june 2025
Open Site: 23 – 25 iunie 2023
Location: Cheile Nerei – Beușnița Natural Reserve (village Bârz / Dalboșeț)
SKY HILL LAND ART (SHiLA) is a decade-long program of international land-art events. It is a multidisciplinary residency in which teams of artists, architects, and musicians are invited to perform ephemeral, site-specific interventions based on a specific topic. 
Managing an exceptional natural space nearby Nera Gorges Reserve in the Romanian area of the Banat Region, SHiLA sees the initiative as an opportunity to carry on Timișoara's history of a multidisciplinary approach to creative work and a natural continuation of Archaeus Foundation educational actions, stimulating cultural, professional, and social networking.
This year's edition of SHiLA proposes, as a starting point for discussion, the JUNGIAN double interpretation of SACRED SPACE as both TEMENOS and MAGIC CIRCLE. TEMENOS carries the Greek meaning of an enclosed, protected space, which for Jung, describes both a personal container and the sense of privacy that surrounds an analytical relationship. On the other hand, Jung envisions the MAGIC CIRCLE (which he derives from drawings, such as Hindu mandalas) as a protective symbol in the objectification of unconscious images. These two approaches, combined, constitute, in Jungian psychology, the notion of a safe ground in which one can access the unconscious and experience spiritual transformation. 
Along with Jung, the artists are invited to discuss and put their ideas in tension with Gurdjieff's notions of the SACRED as both a symbolic and formal SPACE for spiritual awakening. This conception appears to be evident in his appreciation of Eastern religious architecture and its connection to Mathematics, as well as in the notion of embodied consciousness, which guides the principles of self-observation and self-study, present in his admiration, research, and particularly, his practice of Sacred Dances. His Movements, a series of dance-like exercises created and designed to awaken higher states of consciousness, emphasize the importance of connecting the performer with the natural world and what he viewed as the cosmic order.
This triple notion of the Sacred, as a built, mental, and performative space, informs the curatorial intent of SHiLA 2023 as contemporary Land Art Event and defines both the invitation and challenge for the participants of the experience.
SHiLA 2023 SACRED SPACE will be held in Dealul Cerului, Nera Beușnița (RO), between 16th and 25th June 2023. The last 3 days will have a site – open in nature for guests and art lovers.
Parallel and/or subsequent activities will be carried out in Timișoara in 2023.