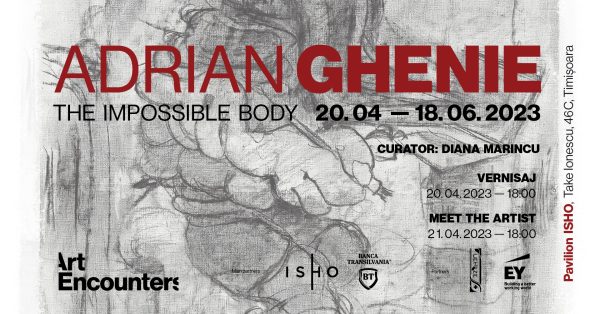 Adrian Ghenie - THE IMPOSSIBLE BODY
---
THE IMPOSSIBLE BODY
Artist: Adrian Ghenie
Curator: Diana Marincu
Perioada expoziției: 20 Aprilie 2023 – 18 Iunie 2023 
Organiser: Art Encounters Foundation
Main partners: ISHO, Banca Transilvania
Partners: Catena, EY Romania
Graphic design: Karina Isar
It gives us great pleasure to invite you to the exhibition "Adrian Ghenie, The Impossible Body," composed of a series of recent works by the artist specially created for this occasion. Adrian Ghenie is one of the most popular contemporary Romanian artists and a true phenomenon of the international art market, known primarily for his paintings inspired by historical subjects with relevance to the tumultuous history of the 20th century.
Curated by the artistic director of the Art Encounters Foundation, Diana Marincu, the exhibition brings together a large collection of drawings alongside some of the artist's paintings.
The artist dwells here on the subjects inspired by the pandemic period and isolation in the domestic space when the only connection with the "world" was through digital devices. These new themes relate to the complicated relationship man has formulated with today's technology, social media, his body, and time. Ghenie saw that today there is a new language of the body, which imposes different postures, specific anatomical developments, and extensions of the limbs through technology tools.
The exhibition is organized at the ISHO Pavilion and can be visited between Wednesday and Sunday, between 10:00 and 18:00 (access is free). In addition, the "impossible body" benefits from a mediation program, which we will announce shortly.
Adrian Ghenie was born in 1977 in Baia Mare and currently lives in Berlin. His works' mixture of abstract and realism often generates psychological, deeply disturbing paintings. Ghenie's painting is ultimately a political or even revolutionary act. It has to do with the "duty of memory," and, in a certain sense, Adrian Ghenie's work goes in the direction of George Santayana's quote: "Those who cannot remember the past are condemned to repeat it." Adrian Ghenie is a personality who has reached the full maturity of his artistic expression. He exhibited in major art institutions of the world, including Accademia di Francia in Rome – Villa Medici, Rome; Contemporary Art Center (CAC) Málaga; Hermitage Museum in Saint Petersburg; Museum of Contemporary Art (MCA), Denver; Stedelijk Museum voor Actuele Kunst (S.M.A.K.), Ghent; National Museum of Contemporary Art (MNAC), Bucharest; Tate Liverpool. In 2015, he represented Romania at the Venice Art Biennale with the Darwin's Room project.