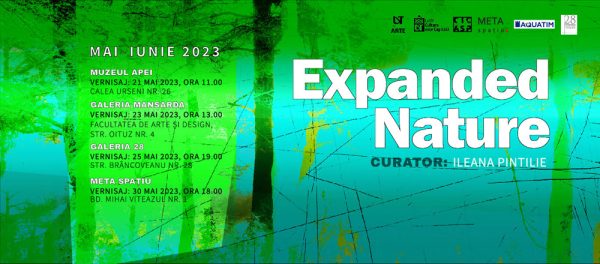 Expanded Nature
---
Expanded Nature 
Curator: Ileana Pintilie
Muzeul Apei, Calea Urseni, Timișoara
Ciprian Ciuclea, Nicolae Moldovan, Simona Nuțiu-Gradoux, Bogdan Rață, Liviu Stoianovici, Mihai Zgondoiu
Mansarda Gallery, FAD, str. Oituz nr. 4
Dacian Andoni, Diana Andreescu, Daniela Constantin, Istvan Eröss – Academia de, Artă Budapesta, Matei Gașpar, Gloria Grati, Gabriel Kelemen, Adriana Lucaciu, Camil Mihăiescu, Andreea Palade- Flondor
Galeria 28, str. Constantin Brâncoveanu nr. 28
Constantin Flondor, Grupul Noima
Meta Spațiu, bd. Mihai Viteazul nr. 1
Ana Adam, Anca Benera & Arnold Estefan, Matei Bejenaru, Geta Brătescu, Dana Catona, Ion Grigorescu, Iosif Kiraly, Liliana Mercioiu-Popa, Dan Perjovschi, Marilena Preda-Sânc
Proiect inițiat de Centrul pentru studii curatoriale, istoria si critica de arta, patrimoniu (CICASP) în cadrul Facultății de Artă și Design, Universitatea de Vest, Timișoara
Opening:
Muzeul Apei, Calea Urseni, Timișoara, 21 mai 2023 ora 12
Galeria Mansarda Gallery, FAD, str. Oituz nr. 4, 23 mai 2023 ora 13
Galeria 28, str. Constantin Brâncoveanu nr. 28, 25 mai 2023 ora 19
Meta Spațiu, bd. Mihai Viteazul nr. 1, 30 mai 2023
The exhibition Expanded Nature sets to creatively explore our increasingly broader ties with nature, from a contemporary point of view, noting the landscape's and surrounding medium's evolution, analyzing our fears related to the destruction of the environment, to the climate changes, and to natural disasters caused by human interventions. Exploiting natural resources up to the extinction of life, impoverishes the earth, and often leads to the extinction of some species of wildlife. In our relationship with nature – from the perspective of the devastating effects provoked by mankind – one could also mention the alteration of the social climate, due to polarizations of all kinds, and due to the political and economic upheaval, which generated and would continue to generate the phenomenon we call migration.