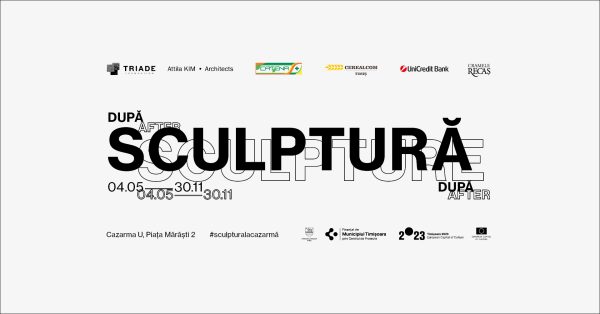 după SCULPTURĂ/SCULPTURĂ după
---
după SCULPTURĂ/SCULPTURĂ după
04.05. – 30.11. 2023
In how many ways does sculpture continue to exist?
For centuries, sculpture has been revered as a monument, a symbolic representation aimed at immortalising a notable place or event in our consciousness. Does sculpture still uphold the validity of this convention?
Are the boundaries within which sculpture was formerly perceived still adhered to?
What happens after the grand models have achieved their ultimate forms of expression?
Does Romanian sculpture still hold relevance in the present day, following Brancusi's experience?
The curatorial concept unifying these events stems from the notion that in contemporary art, the three-dimensional object has transcended its condition and boundaries.
In this context, the curatorial selection will consider artistic productions grounded in the sculptural object, which aim to extend its temporal, spatial, or meta-spatial dimensions through forms of expression such as intervention in the ambient space, site-specific installation, Land Art like interventions, the object augmented by computerised technologies, performance, or relational art.
RESPONSIVE MATTER
Curator: Alina Serban 
– Dan Vezentan
– Ambrus Nimbert
– Ioana Sisea
– Adrian Kiss
– Alexandra Satmari
MONUMENTAL ȘI EFEMER. MEMORIA SCULPTATĂ 
Curatoare: Ioana Vlasiu
– George Apostu
– Mircea Cantor
– Andrei Cădere
– Ioana Ciocan
– Reka Csapo Dup
– Doru Covrig
– Darie Dup
– Teodor Graur
– Grupul Sigma
– Peter Jacobi
– Peter Jecza
– Aurelia Mihai
– David Morar
– Ciprian Mureșan
– Paul Neagu
– Ion Nicodim
– Mihai Olos
– Alexandru Păsat
– Silvia Radu
– Mircea Roman
– Elena și Marcel Scutaru
– Virgil Scripcariu
– Aurel Vlad
– Victoria Zidaru
VOLUM PRIN STRATURI
Curator: Ciprian Mureșan
– Andrea Anghel
– Marieta Chirulescu
– Norbert Costin
– Mihai Iepure-Gorski
 – István László 
– Mihnea Mircan
– Adriana Popescu
– Silvia Radu
– Cristian Rusu
– Paul Stoie
SPARKS IN THE DARK
Curatori: Rainald Schumacher & Nathalie Hoyos
Luka Basov & Krystyna Melnyk / Ucraina

Maria Leonenko & Anna Potyomkina / Ucraina

Oksana Pohrbennyk-Tishenko / Ucraina

Mariia Rusinkevych / Ucraina

Karina Synytsia 

Radu Cioca (instalație) / România

Alex Miruțiu (performace) / România
+
Alina Aldea 

Cătălin Bădărău

Alin Carpen

Costel Iacob

Bianca Man

Andrei Pituț

Adrian Pîrvu

Maria Popp Timaru

Cristian Răduță

Mihai Rusen

Marian Zidaru
ABSENT WITHOUT OFFICIAL LEAVE
Curator: Horațiu Lipot
Andreea Albani

Andrei Arion

Radu Comșa

Arantxa Etcheverria

Camilia Filipov

Lera Kelemen

Vlad Olariu

Bogdan Rața

Larisa Sitar
TERENCE MUSKIWA – solo show
Curator: Catinca Tăbăcaru
Gabriela Vanga 
Performance
BENGAL NIGHTS
Curator: Josip Zanki 
Alejandra Balón / Peru

Manolo Cocho / Mexic

Larisa Crunțeanu 

Megan Dominescu.

Ivan Fijolić / Croația

Bojan Gagić / Croația 

Esneider Gamboa / Columbia

Luise Kloos / Austria 

Daniela Leyva / Mexic

Leonardo Martínez / Mexic
PREOCUPAT/PREA-OCUPAT
Curator: Unfold Motion
TRAIAN CHERECHEȘ
Curator: Ami Barak & Bogdan Ghiu
The concept behind this project has been thoughtfully developed by Sorina Jecza and Attila Kim through the TRIADE Foundation and Attila Kim & Architects.
Our main sponsors, Catena, Cerealcom Timiș, UniCredit Bank, and Cramele Recaș, have generously supported the realisation of this project.
Our cultural partner, CODRU Association, will be organising a series of events in the courtyard of CazarmaU during the opening weekend and throughout the project until November 30th. These events will complement the project and add to the cultural richness of the exhibitions.
Funding for this project is provided by the Municipality of Timișoara through Centrul de Proiecte Timișoara and Consilul Județean Timiș.